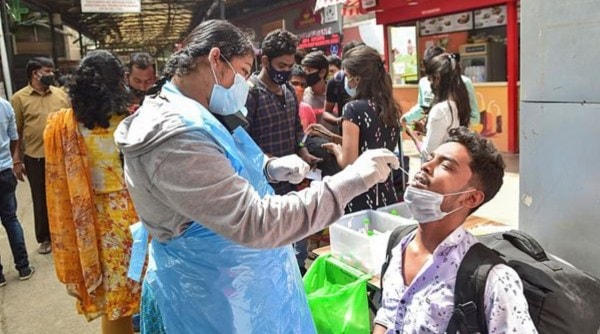 A health worker conducts Covid-19 testing of commuters amid fear of spread of a new variant of Covid-19, in Bengaluru (PTI)
Karnataka on Saturday breached 1,000 mark in Covid cases, adding 1,033 new cases to the state's overall infection count. Out of these, 810 cases were reported from the capital city of Bengaluru. The state also recorded five new Covid deaths and 354 fresh recoveries.
The Bengaluru city traffic police have decided to close all major roads, including MG Road, Church Street, Brigade Road, Indiranagar, Koramangala and others, for public starting from 6 pm on New Year's eve on Friday. Kamal Pant, the Bengaluru city Police Commissioner, has issued fresh prohibitory orders, which ban large gatherings of five or more people at public places from 6 pm Friday till 6 am on Saturday. Hotels, restaurants and other commercial establishments are allowed to function till 10 pm on Friday.
Meanwhile, the CBI has arrested the Regional Officer of National Highways Authority of India (NHAI), Bangalore and four private persons, including the General Manager and Executive Director of a private company, for an alleged bribery of Rs 20 Lakh. Searches are being conducted at the premises of the accused at New Delhi, Bangalore, Cochin, Gurgaon, Bhopal etc. which so far, have led to the recovery of Rs 4 crore(approx).
Karnataka on Friday had reported 832 new Covid-19 cases and 8 deaths, taking the total number of infections to 30,07,337 and the death toll to 38,335. A Covid-19 cluster was reported at the Adarsh Palm Retreat villa in Mahadevapura, with 36 testing positive for the virus. All the infected people have been put under home isolation and their samples have been sent for genome sequencing.